Digital Teeth Scanner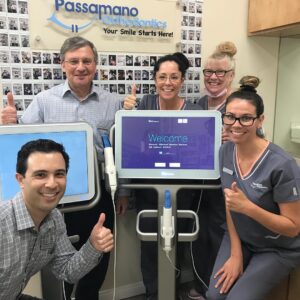 We are proud to offer the latest advances to our patients,  digital teeth scanner for all our Invisalign and braces patients.  No more gaggy, messy impressions!
The Invisalign Teeth Scanner uses technology similar to a 3D camera to digitally scan your teeth instead of the traditional molds / impressions.  This method allows for better fitting aligner trays, which mean your teeth move more predictably and more efficient!  We feel that our Invisalign Digital Scanner is a fantastic benefit that further enhances our patients' experience.
Advantages of our Invisalign Teeth Scanner vs Traditional Invisalign Impressions (Molds)
Accurate – more accurate data > better fitting trays > more predictable tooth movements
Comfortable – no more gagging or messy impression materials
No more re-do's – we capture all your teeth with the scanning wand
Fast – we can get our aligners back to you quicker (1-2 weeks quicker).
Did you know we can do Digital Impressions for braces too?  Just ask us how.  
Our patients now digitally see their teeth and bite right away.



Contact Us
Passamano Orthodontics in Irvine, CA
949-552-5542
info@youbraces.com
4200 Barranca Pkwy, Irvine, CA 92604
Office Hours
Mon-Tues: 9am — 6pm
Wed: 7am — 3:30pm
Thurs: 8am — 5pm
Fri: 9am — 2pm