Adult Braces in Irvine, CA
Custom 3D Braces for Adults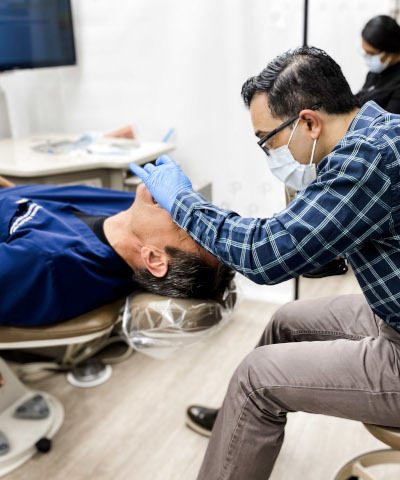 Your 5-Star Braces Provider
Custom 3D Braces for Adults in Irvine, CA
Braces have come a long way since your childhood, with sleeker, slimmer, and more comfortable options now available! According to the American Association of Orthodontics, one in four orthodontic patients are adults. Passamano Orthodontics offers advanced technology treatment with custom 3D-placed metal and clear braces, which move teeth up to 6 months faster than traditional braces! Our custom clear braces, made from ceramic polycrystalline alumina brackets, are available in white and translucent options for an aesthetic smile during treatment. We use LightForce technology to create and customize your treatment plan.  At Passamano Orthodontics, there is no age limit on a great smile!
| Traditional Analog Braces | 3D Digital Custom Braces |
| --- | --- |
| "One Size Fits All" | "Made to Order" |
| Everyone Gets the Same | Customized Movements |
| More Overall Discomfort | Less Overall Discomfort |
| More Office Visits | Fewer Office Visits |
| Standard 24-30 Month Treatment | Up to 6 Months Faster Treatment |
The Passamano Digital Difference
Technology That Will Make You Smile From the Beginning to the End of Treatment
Our commitment to utilizing the very latest technology at the highest possible standard sets us apart and gives our patients time and flexibility during treatment. In addition to saving you time, our investment in digital orthodontics creates more precise treatment plans and the most efficient treatment execution, so the road to your dream smile can be a smooth one.
Knowing your smile will change during treatment is helpful, but wouldn't it be reassuring to see what your new smile will look like after treatment? Dr. Passamano's Smile Simulator can take a photograph of your child and their current smile, and show you a comparison of their post-treatment smile – Check out the video below to see how! Dr. Passamano's Digitial Difference doesn't stop there…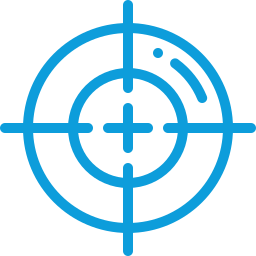 Digital Scanning Benefits
Our iTero Scanner captures more precise, detailed images of your teeth and is 10 times more likely than impressions to produce an accurate scan on the first try!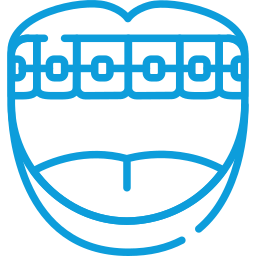 Digital Appliance Benefits
With our 3D digital custom braces, Dr. Passamano can give you the smile of your dreams up to 6 months FASTER than traditional analog braces!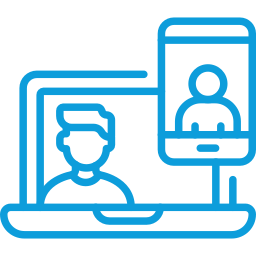 Digital Monitoring Benefits
Spend less time in our chair during treatment. Scan your smile from virtually anywhere with our amazing Passamonitoring technology and receive Dr. Passamano's expert advice right to your phone!
It's Never Too Late to Get a Gorgeous Smile
Embracing your treatment journey is easy with our discreet and effective treatment options. At Passamano Orthodontics, we have two categories of adult patients, those who have never received orthodontic treatment, and those who need to fine-tune their teeth after years of shifting. Whatever category you find yourself in, we have the right treatment options for you! Dr. Passamano and his team offer LightForce 3D fully customizable braces. These braces are much more aesthetic than metal braces. Opt for white or translucent braces, and enjoy your path to a straight smile. 
Our adult patients typically come into our office ready for an aesthetic change, but straight teeth are actually healthier, as well. You might not think about it much, but straight teeth are healthy teeth. Prioitizing our physical, mental and spiritual health becomes increasingly important the older we get, but we often forget our oral health is a piece of our physical health. Correcting misaligned teeth can significantly decrease future dental problems like tooth decay, gum disease and difficulty chewing. Bacteria is harder to reach with misaligned teeth, and can cause long-term issues. Ideal teeth alignment can also decrease the likelihood of future systemic health problems such as heart disease and diabetes. Dr. Passamano wants to help you achieve a straight and healthy smile that will last a lifetime!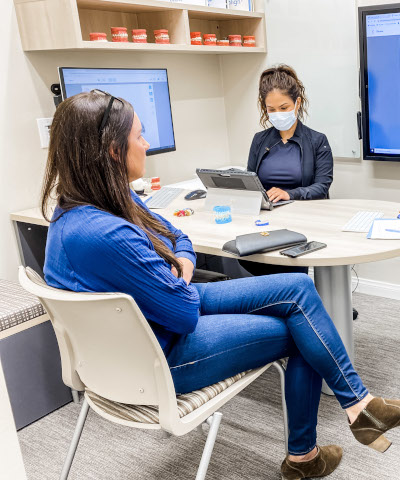 Your First Appointment is On Us
Thank you for stopping by Passamano Orthodontics online. Are you ready to schedule your first appointment? Dr. Passamano and his team are eager and ready to meet you and develop a unique treatment plan for you and your family! Contact our office, or click below to request your free consultation, and we will contact you soon to set up your appointment. We can't wait for you to join the Passamano Orthodontics' Family!