Invisalign for Kids in Irvine, CA
Invisalign First for Kids
Your 5-Star Invisalign Provider
Phase One Treatment With Invisalign First
Did you know the American Association of Orthodontics recommends that children have their first orthodontic checkup by age 7? At this age, kids have mixed detention and are in a great spot for early treatment. In other words, they have a good mix of permanent and baby teeth which allows Dr. Passamano to assess early malocclusions and develop a treatment plan. An early evaluation helps us diagnose present and developing orthodontic issues so Dr. Passamano can begin treating them before they become more complex.  
With the use of Invisalign First treatment, Dr. Passamano will assist in the development of your child's jaws and arches. Properly developed jaws and arches will provide room for existing teeth and incoming adult teeth, while preventing future crowding and spacing issues. Invisalign First treatment times vary case by case, but on average take about 6 to 18 months. Phase 1 treatment, sometimes referred to as early treatment, can correct a wide array of dental issues such as: crowding, spacing, narrow arches, misaligned jaws, bite issues and can even correct oral habits like thumbsucking or pacifier use. 
Dr. Passamano loves treating little ones with Invisalign First because it is gentle and comfortable. Parents love this early treatment because they don't have to worry about poky wires or brackets. The removable trays make maintaining your child's oral hygiene a breeze! Invisalign first is a comfortable and safe option both you and your children will love!
The Passamano Invisalign Difference
3 Steps to a Stunning Smile

Develop a treatment plan
Dr. Passamano will assess your orthodontic needs and develop a unique treatment plan for you! Nex, your Invisalign aligners will be made and sent back to the office!

Wear your aligners
You should aim to wear your clear aligners up to 22 hours a day every day. You will switch to the next aligner in your set about every two weeks!

Maintain your smile
After your Invisalign treatment is over, Dr. Passamano will fit you for your retainers. Be sure to wear your retainers every night so your new smile doesn't shift!
TRANSFORM YOUR CHILD'S SMILE IN HALF THE TIME
Experience Personalized Treatment Up to 50% Faster Than Traditional Braces
Dr. Passamano can transform your child's smile with Invisalign 50% faster than traditional braces. That's half the time your little one will have to spend wearing retainers! Invisalign is made from soft, medical grade plastic that's customized to hug each tooth comfortably. Each aligner applies gentle pressure to the teeth, guiding them into correct placement. Your child will wear their aligners for about 22 hours a day, and will change their aligners out about every two weeks. Since Invisalign doesn't use wires or brackets, your kiddo won't need any adjustments or wire tightening. They'll experience ultimate comfort with Invisalign, and they'll spend less time in Dr. Passamano's chair!
We love the Invisalign First option for little ones because it can develop their jaws and provide plenty of room for incoming teeth in as little as six months! It is the perfect option for little ones, because it is pain-free and the removable trays make it an easy adjustment. You won't have to change your child's oral hygiene routine or worry about them breaking a bracket when they're eating. With Invisalign First, your child will be happy and you won't have to worry about braces injuring their mouths or changing up their normal routines. A clear, virtually invisible, removable, comfortable and fast treatment option for your child? What could be better! Want to know more about Invisalign First? Visit the Invisalign First website or call our office today! We will make sure all of your questions are answered and can even set up your little one's complementary consultation appointment!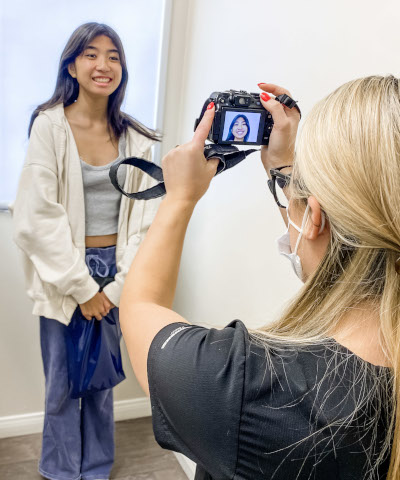 Your First Appointment is On Us
Thank you for stopping by Passamano Orthodontics online. Are you ready to schedule your first appointment? Dr. Passamano and his team are eager and ready to meet you and develop a unique treatment plan for you and your family! Contact our office, or click below to request your free consultation, and we will contact you soon to set up your appointment. We can't wait for you to join the Passamano Orthodontics' Family!