Your Family Orthodontist in Irvine, CA
Your Virtual Consultation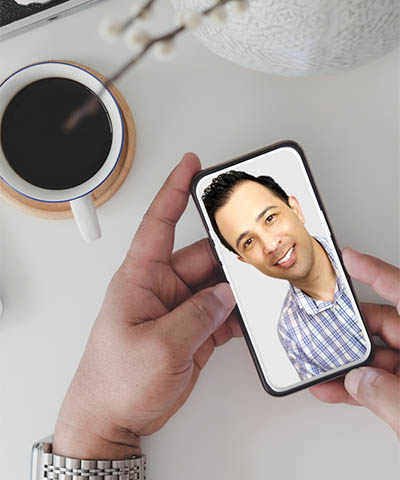 Virtual New Patient Consults
New Patient Consultations at Home or on the Go
At Passamano Orthodontics, we are dedicated to making your orthodontic experience as effortless and convenient as possible. We are always looking for new technology that we can utilize to amplify your orthodontic treatment. One way we do this is by offering a virtual consultation option.
Our virtual consultation option is available to our new patients and is super simple. Find out Dr. Passamano's personalized orthodontic treatment plan for you right from your own home! We know it can be difficult to find a time to come into our office, between work, school, sports and social events. Our virtual consultation appointments eliminate the need for you to visit our office in person, without delaying your treatment. Our virtual consults and virtual appointments are catered to our patients, because our sole purpose is helping you achieve your best smile, without interrupting your normal daily lives.
Passamano Orthodontics allows you to schedule a virtual consultation at a time that best fits your schedule. Before your virtual appointment, our office will send you a link where you will submit approximately six photos of your smile. Dr. Passamano will review these photos and then create a custom treatment plan just for you! During your virtual consultation, he will discuss your treatment options with you and answer any questions you might have about the process.
During Your Virtual Consultation?
Your consultation appointment with Dr. Passamano won't take long at all. You will receive expert one-on-one consulting from Dr. Passamano as he goes over your treatment options with you. Other than submitting your photos before your appointment, most of your job during your consultation is to listen and ask any questions. Your virtual consultation should be quick and painless, as well!
Show Us Those Pearly Whites
How to Take Your Smile Selfies
Taking photos of your smile for Dr. Passamano is as easy as posing for a family photo. Start by handing the camera over to a friend or family member and allow them to take the photo for you! Don't think too much about the posing for the photos, the main objective here is to get a clear and accurate picture of your teeth, bite and any orthodontic issues you may have. Follow our tips below, and your smile selfies will turn out perfectly! After you submit them, Dr. Passamano will examine your teeth, and you'll be on your way to a new smile in no time!
Tips for Taking Great Smile Selfies
To ensure Dr. Passamano has all he needs to develop your personalized orthodontic treatment plan, use our tips for taking great smile selfies below:
Capture your photos, like the examples shown here, and submit them to our link, and then Dr. Passamano can begin your treatment journey in no time!
Your First Appointment is On Us
Thank you for stopping by Passamano Orthodontics online. Are you ready to schedule your first appointment? Dr. Passamano and his team are eager and ready to meet you and develop a unique treatment plan for you and your family! Contact our office, or click below to request your free consultation, and we will contact you soon to set up your appointment. We can't wait for you to join the Passamano Orthodontics' Family!