Invisalign in Irvine, CA
Invisalign for Adults
Top 1% Invisalign Provider
The Comfortable & Discreet Way to Transform Your Smile
Are you ready to upgrade and improve your smile but want an alternative to traditional, metal braces? Well, look no further than Dr. Passamano's Invisalign clear aligners. Invisalign is often the perfect solution for adults because it provides them with a virtually invisible, removable and discreet way to transform their smile. As one of the top 1% Invisalign Providers, Dr. Passamano creates trackable, predictable treatment plans for his patients so they can have the smile of their dreams! 
Unlike traditional braces, Invisalign can be removed at your convenience for social events, meal time and oral hygiene care. These removable trays make it easy to transform your smile without interrupting your normal daily life. Dr. Passamano will start by gathering photographs, x-rays and virtual scans of your teeth. Then, using Invisalign's 3D Smile SImulator, he will create a unique treatment plan, just for you! The 3D simulator shows your predicted progress at each stage or your treatment, and even shows you a glimpse of your final, post-treatment smile! 
After your consultation, your job is simple. Wear your Invisalign aligners every day for at least 22 hours a day. You can remove them at meal time, so you don't have to worry about missing out on your favorite foods! Brush, floss and replace your aligners after you eat, and you're good to go! Once your treatment is done, Dr. Passamano will give you a custom-made Invisalign retainer that will preserve your new perfect smile!
The Passamano Invisalign Difference
3 Steps to a Stunning Smile

Develop a treatment plan
Dr. Passamano will assess your orthodontic needs and develop a unique treatment plan for you! Nex, your Invisalign aligners will be made and sent back to the office!

Wear your aligners
You should aim to wear your clear aligners up to 22 hours a day every day. You will switch to the next aligner in your set about every two weeks!

Maintain your smile
After your Invisalign treatment is over, Dr. Passamano will fit you for your retainers. Be sure to wear your retainers every night so your new smile doesn't shift!
CLEARLY THE FASTEST OPTION
Straighten Your Teeth Up to 50% Faster with Invisalign
We understand life can be busy and entering a long orthodontic treatment plan doesn't quite fit into your calendar. Luckily, Dr. Passamano can give you the smile of your dreams with Invisalign up to 50% faster than with traditional braces. You'll find Invisalign is the most convenient treatment option and easily fits into your schedule. The clear aligners mitigate the need for wires and brackets, so you don't have to come in every other week to adjust your braces. Dr. Passamano and his team will give you back your time with Invisalign, so you can focus your time and energy on work, your family and your social life, all while achieving the smile of your dreams!
Invisalign is a discreet, convenient, virtually invisible, comfortable and simple orthodontic treatment. You can transform your smile without anyone even realizing you are receiving orthodontic treatment. The aligners are so comfortable, in fact, that even you will forget you have them in sometimes! Wear your aligners for approximately 22 hours a day, removing them to eat, brush and floss, and for any social events you might have. Invisalign will fit right into your schedule. SImply swap your Invisalign trays out about every two weeks, and see your smile transformation happen right before your eyes! Are you ready to add a convenient and effortless orthodontic treatment option into your life? Call our office today to schedule your free consultation, and you'll be on your way to your best smile in no time!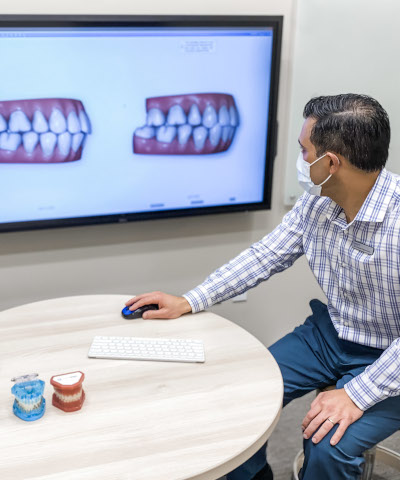 Your First Appointment is On Us
Thank you for stopping by Passamano Orthodontics online. Are you ready to schedule your first appointment? Dr. Passamano and his team are eager and ready to meet you and develop a unique treatment plan for you and your family! Contact our office, or click below to request your free consultation, and we will contact you soon to set up your appointment. We can't wait for you to join the Passamano Orthodontics' Family!