Maintaining Your Smile After Treatment
Retainer Options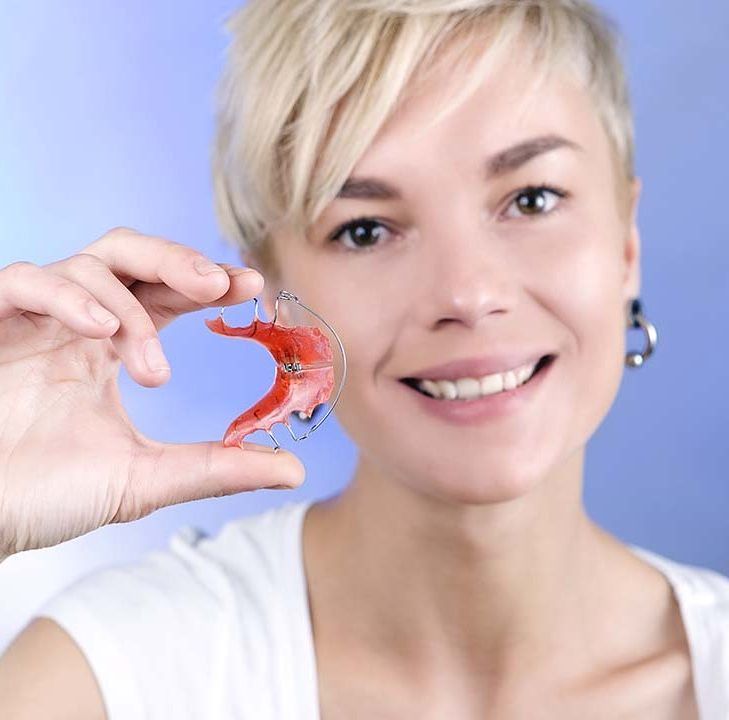 Know Your Retainer Options
Now that we are getting close to finishing up your orthodontic treatment, it is time to start planning for the next part of treatment:  Retainers. Orthodontic retainers are needed to maintain straight teeth after braces are removed. We offer both removable and non-removable solutions to keep the teeth straight.
For removable retainers, it is recommended that retainers be worn for 18 hours a day for the first 6 months after braces are removed. After 6 months, nighttime wear (8 hours per day) is recommended.
Non-removable permanent bonded wires can also be placed on the inside surfaces of the upper and/or lower front teeth. These retainer wires are bonded to the teeth and can last many years. The advantage of the bonded retainer wires is that there is much less need for compliance.
The disadvantage of permanent wires is difficulty flossing and cleaning (plaque buildup). The lower permanent bonded retainer wire covers the front 6 teeth while the upper permanent bonded retainer wire covers the upper 4 front teeth. A clear removable retainer will need to be worn at night only to hold the back teeth.
Choosing Your First Retainers
Please choose one upper (Removable or Permanent) and one lower (Removable or Permanent) retainer option. A second set of Invisalign brand clear retainers is included in your treatment fee (see below for more details regarding the clear retainer). If you are looking for Phase 1 treatment retainers please click here.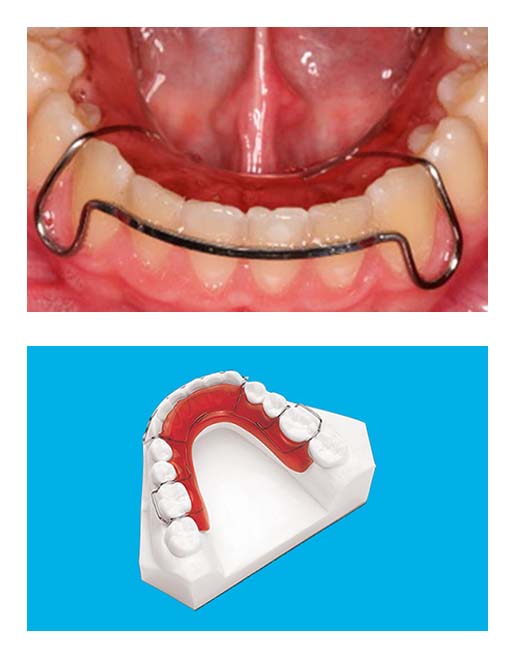 A Hawley retainer is the most common type of retainer. The lower retainer is comprised of a custom-molded acrylic or plastic piece that fits against the floor (bottom) of the lower arch and an attached metal wire that fits over the front of the teeth. It is durable and long lasting but is also more noticeable than other options.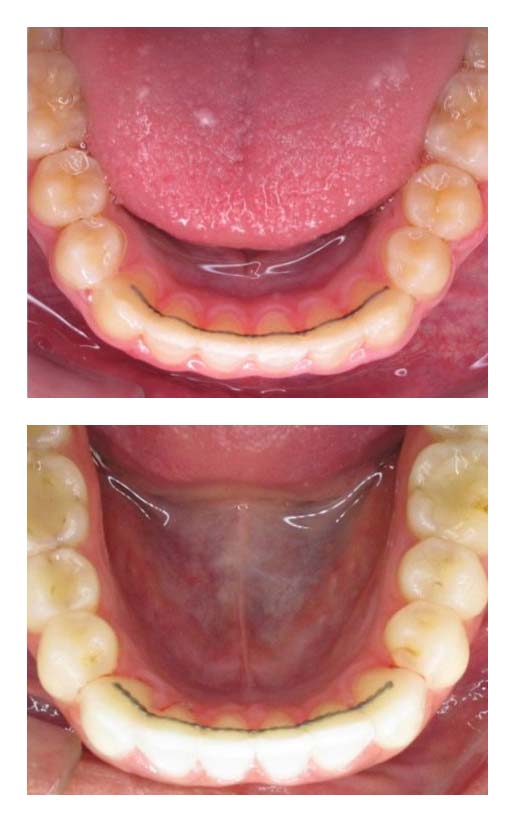 A retainer wire is bonded to the inside surfaces of each of the 6 lower front teeth. They are more discreet than traditional retainers but because they are bonded to the teeth, it can make thorough brushing and flossing more difficult. We sometimes recommend this option for severe crowding to prevent relapse. The lower teeth are generally the first teeth to relapse. There is no additional fee for this wire.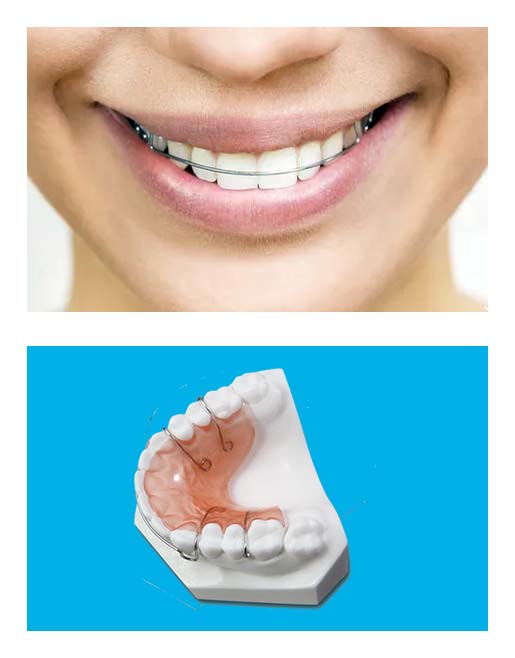 Similar to the lower retainer, the upper Hawley retainer is made of a custom-molded acrylic arch that fits against the roof of the mouth and a wire that fits over the front of the teeth. Because it is removable, it is easy to clean. Because it is bulkier than other options, some patients may experience a slight lisp at first when talking.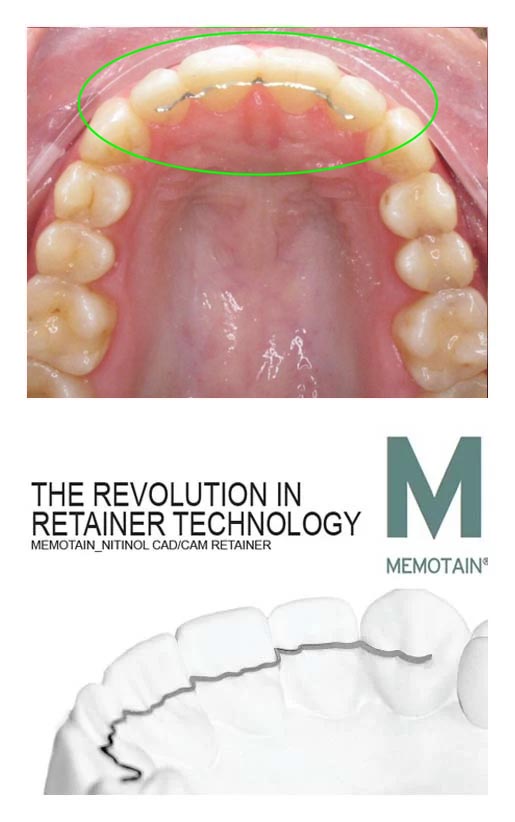 This wire is similar to the lower bonded retainer wire, but it is custom-made to order, 3D printed, and robotically bent to fit the precise size and anatomy of the upper teeth. This Memotain® wire is made in Germany and covers the front 4 anterior teeth. In some instances due to lack of physical space or anatomy of teeth, this wire cannot be bonded. Dr. Passamano can help advise you. There is an additional fee of $550 for this wire.
Upper & Lower Digital Clear Retainers
(Included with Treatment Fee)
We understand that retainers can be lost or broken, so we give you two sets upfront to avoid any lapse in retainer wear. The second set of retainers is included at no additional fee.  About 1-2 months after braces are removed, we offer a set of Invisalign branded clear retainers that are custom fitted to each patient.  These retainers can be used interchangeably with traditional retainers and are fitted to cover the permanent retainer wires (if applicable). 
Invisalign clear retainers can also be used as whitening trays (whitening gel sold separately).  These clear plastic retainers may need to be replaced every 2-5 years, depending on how well you care for the retainers. Additional clear retainers may be purchased for $250 each (or $500 for the pair).  Digital clear retainers can be re-ordered, manufactured, and shipped to you without an in-office visit.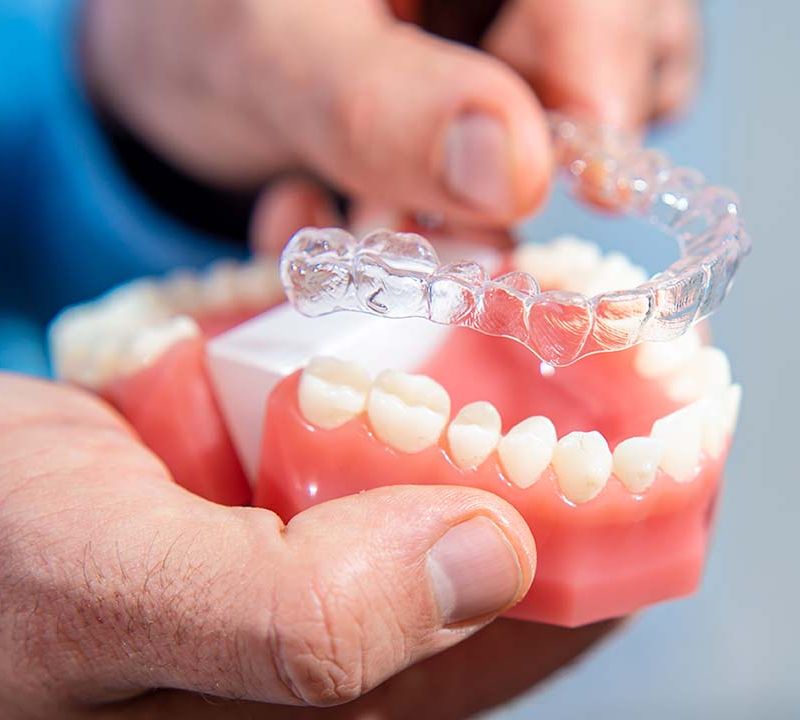 Your First Appointment is On Us
Thank you for stopping by Passamano Orthodontics online. Are you ready to schedule your first appointment? Dr. Passamano and his team are eager and ready to meet you and develop a unique treatment plan for you and your family! Contact our office, or click below to request your free consultation, and we will contact you soon to set up your appointment. We can't wait for you to join the Passamano Orthodontics' Family!