by Dr. Robert Passamano
This blog is for the newly engaged or about to be engaged.  One of the early wedding checklist items is to "Get in Wedding Day Shape."  This means to get your body ready by joining a gym or personal trainer, practice your hair style and whiten / straighten your teeth.  Celebrity Wedding Planner and former Invisalign patient, David Tutera mentioned this same topic on his blog at http://www.davidtutera.com/how-to-take-the-perfect-wedding-picture/.  Tutera "believes improving one's smile is one of the most important beauty enhancements brides can make in time for their big day. In less time than an average 13-month engagement, a bride can have a new smile before she walks down the aisle."  Also, check out Picture Perfect Smile on StyleMePretty.com
How to take Perfect Wedding Day Photos?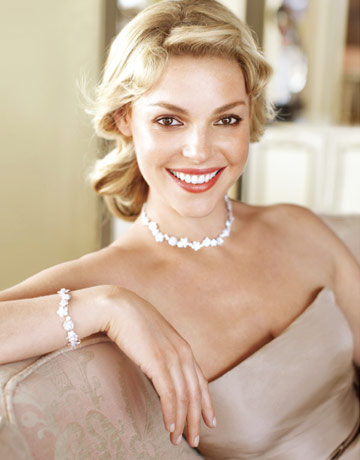 Using Invisalign or Braces, a person can greatly enhance his or her smile for the big day.  One celebrity that used Invisalign Orthodontics to improve her smile was Katherine Heigl.  Hollywood actress, Katherine Heigl had one tooth that was out of alignment, and wanted to have it fixed before her wedding day.  "I got them [clear aligners] because of this wonky tooth," Heigl told In Style magazine not long ago. "It's awesome because every two weeks you switch to a new retainer. Pretty much the perfect way to describe Invisalign is Netflix for your teeth." (Below is Katherine putting her Invisalign in)
On your wedding day, your photos are extremely important. They are memories that will last a lifetime and how you present yourself in a photo, shows the sincerity and emotion you had on the day of your wedding.  Our orthodontic goal is to get you in Wedding Day Smile Shape.  This means that your teeth are straight, white and no visible Invisalign attachments or braces.  Often times, we have patients who come to us with less than 1 year to get Wedding Ready!!!  Usually, treatment will last 14-18 months, so we do our best to show off your wedding smile.  Of course, we routinely remove any/all attachments or braces for the bride or groom. We also recommend whitening in addition to get your teeth in that perfect wedding day smile.
Case Example (Bride):  This bride-to-be wanted to straighten her teeth before her wedding.  Her wedding was set for late September and she started her Invisalign in January.  We were able to reduce the dark (black) triangle between the two front upper teeth, straighten all her teeth before the wedding, and whiten her upper right central tooth that had yellowed over the years.  We were able to get her wedding ready smile in 9 months! Congrats to this bride on a great wedding ready smile!
Tweet at me!  @DrPassamano