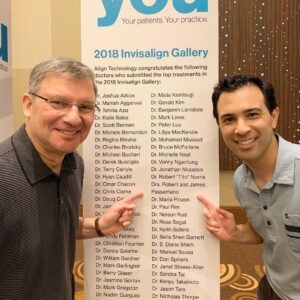 Drs. Robert and James Passamano were recognized as 2018 Top 100 Invisalign Doctors in the U.S. based on case results at this year's Invisalign Conference in Las Vegas.  The 2018 Global Invisalign Gallery features before and after images, 3D simulations, and x-rays of real Invisalign patients voted by peer-reviewed orthodontists.   This is the 4th Publication and 9th Clinical Excellence Recognition for Passamano Orthodontics.
"We are humbled again to be recognized as Top 100 Invisalign Orthodontists with so many other great Invisalign doctors in the U.S.  Our goal for each Invisalign patient is to create the same or better result as traditional braces" – Dr. Robert Passamano.
Both of Drs. Passamano's Top 100 Invisalign Cases can be found at https://global.invisaligngallery.com/.
Passamano Orthodontics is a family-oriented orthodontic practice in Irvine, CA.  Together, Drs. Robert and James Passamano have 9 National Invisalign Case Results Publications, 2 Clinical Excellence Award (2014 and 2016), a Top 1% Provider of Invisalign in North America and 1 of 109 Orthodontists in Invisalign's Hall of Fame Case Selection.